Securities lending (commonly referred to as stock loan) enables holders of assets to monetise the demand for specific assets and asset classes while retaining the economic benefits of their investments in a risk-controlled, operationally efficient manner.
With our Securities Lending Services, you benefit from:

20+ years of experience in securities financing

7 desks worldwide covering all established securities lending markets

Lending programmes tailored to your risk profile

Asset safety with a robust risk management policy
Get access to global and local coverage in more than 30 countries for a wide range of asset classes and using different types of collaterals (Non-cash, cash, client self-managed cash).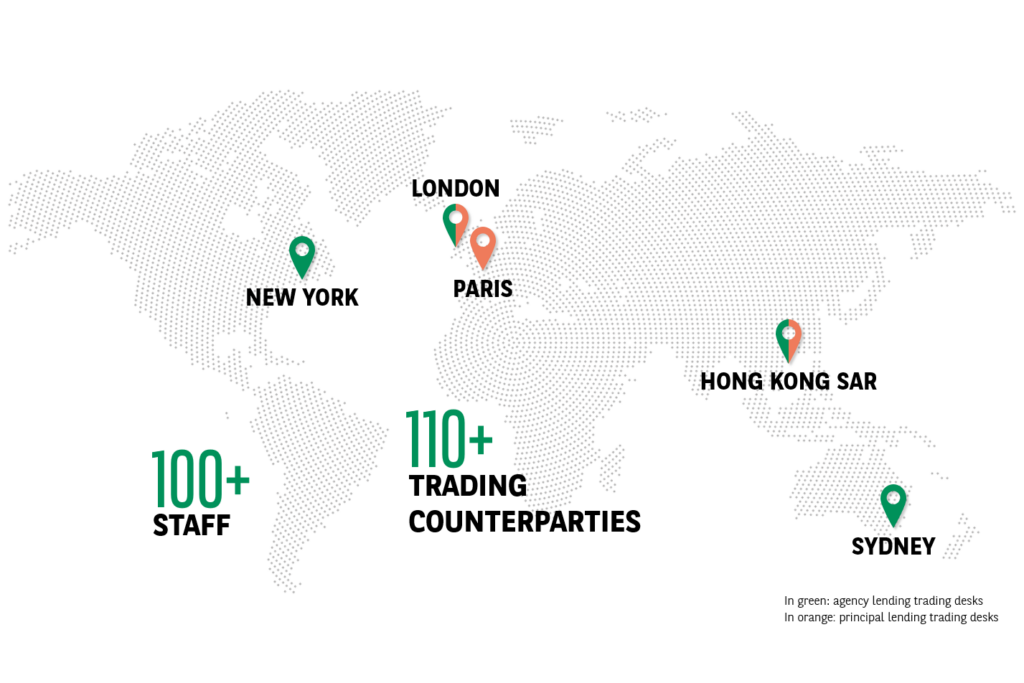 With an in-depth knowledge of local markets, across multiple asset classes and currencies, we can enhance the return on your assets through an efficiently managed, risk-adjusted programme.
You remain in full control of your lending and collateral management programme through customisation.
We are here to provide support and product expertise as we offer continuous access to our securities lending trading teams and product specialists.
You benefit from timely trade processing and settlement thanks to our global and local presence.
As we offer both principal and agency lending programmes you are able to choose what best fits your risk profile.
Our Agency Lending Solution
As your lending agent we ensure our tailored lending strategies align to your risk profile. Our programme leverages the financial strength and global presence of BNP Paribas to extract value for clients while providing comfort to engage in lending. Our programmes are centered upon institutional investors seeking a seamless solution to monetise market opportunities. We manage the lending process on your behalf from loan inception and collateral management to settlement and reporting. Engaging in an agency lending programme diversifies the counterparty risk across a set of preapproved borrowers enabling a broad distribution of client assets to a wide array of counterparties.

Our Principal Lending Solution
With our principal lending solution, you contract directly with us as your only counterparty to each loan. We will bear the market risk for you and guarantee revenue capabilities. The solution is adapted to your needs thanks to the customisation of lending parameters such as collateral schedule, limits and restrictions. With principal lending you benefit from operational simplicity as we will be the ones managing operational process such as loan/return activity, mark to market valuation and more.

Third Party Lending
Our third party agency lending product offering is identical to our traditional custodial lending offer. Designed to meet the needs of clients seeking the expertise and commercial benefits of the BNP Paribas Securities Services offering, third party lending is compelling providing a faster route to market, robust risk protections and asset class expertise. We are connected to a wide array of external custodians ensuring there is a seamless transition to monetise opportunities.
Transparency and Expertise
Providing clients with insight into their securities lending programme is paramount. Participants in the BNP Paribas Securities Services programme have access to monitoring all programme activity on a daily basis as well as the functionality to receive lending activity in a variety of technological formats.
The programme utilises a variety of proprietary technology to extract maximum value for clients in an efficient manner including trading, settlement and reporting. Additionally, we have the ability to service your regulatory reporting requirements.
The global scale of BNP Paribas also benefits clients through continuous market and regulatory Thought Leadership. Our involvement in industry working groups and trade forums further reinforces our commitment to securities lending.
[1] BNP Paribas Securities Services has been awarded multiple times by the industry for its securities lending services, for the most recent awards you can visit this page.