In 2021, for the first time, the Global Leaders Forum took place virtually. This year, we felt it was important to reflect on the lessons learned from the unprecedented context of the pandemic and explore the path ahead to building economic, environmental and operational resilience. The following is a summary of the key themes that emerged from the event.
Emerging from the pandemic:
The industry reaches an inflexion point
Fifteen months have now elapsed since the COVID-19 crisis first began. Initial fears that financial institutions would struggle to overcome liquidity shortfalls and business continuity risks never materialised. In fact, the industry is actively thriving despite the challenging market headwinds, a feat which has been facilitated by its adaptability. As businesses emerge from the pandemic and staff slowly trickle back into offices once again, experts from the banking and asset management world explored what the new normal might look like at BNP Paribas Securities Services' Global Leaders Forum 2021.
ESG (Environment, Social, Governance) is here to stay
A rapidly growing trend even before the pandemic took hold, COVID-19 has been a catalyst for ESG. One panellist stressed that whereas previously ESG was seen as being a 'nice to have', the industry has now recognised its wider potential as a return enabler. Moreover, investors together with regulators – such as the EU which recently introduced its SFDR (Sustainable Finance Disclosure Regulation) rules – are demanding asset managers take ESG more seriously. ESG has become a major issue for policymakers too with a number of governments making COVID-19 bailouts conditional on companies embracing sustainability, noted one fund manager. She continued that the leadership changes in the US – which hitherto had been a laggard on ESG matters – meant the country was now catching up with the rest of the world on sustainability.
Progressive institutions such as BNP Paribas are responding to these developments. "The crisis has accelerated what was already a strong commitment at our firm to sustainability. For example, BNP Paribas joined the Net Zero Banking Alliance, which commits us to achieving net zero greenhouse emissions by 2050 across all of our loan and investment portfolios," said Patrick Colle, CEO and General Manager at BNP Paribas Securities Services.
Digitalising quick and acclimatising to crises
The pandemic has fuelled unparalleled digitalisation over the last 15 months. One panellist acknowledged that 10 years' worth of technological innovation was compressed into the space of just three short months during 2020. In terms of technologies, a speaker said fund managers are increasingly leveraging data in their investment and distribution processes. Through intelligent data analytics, asset managers can identify trends more easily in what can help them augment their sales and investment activities. Custodians are also strengthening their digital proposition.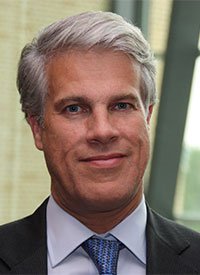 The crisis accelerated our digital agenda. We have been rapidly evolving our data architecture and client communication channels with a view to becoming a fully digital custodian.

Patrick Colle, General Manager, BNP Paribas Securities Services
At the same time, COVID-19 has forced a number of organisations into rethinking their traditional business models. A leading political adviser cited the example of a British company, which made its living by selling pizza to pub chains. When lockdown hit and pubs shut, the adviser highlighted this company transformed itself from a B2B into a B2C enterprise within 10 days. Such flexibility and a willingness to pursue digitalisation will be crucial if companies are to recover from COVID-19.
Getting back into the office
Ever since the pandemic began, debate has been raging about whether home working is to become the norm or if people will eventually return to the office en masse much as they did before the crisis. Several asset managers argued that a hybridised way of working is likely to emerge with employees spending between two to three days in the office each week. While there are obvious benefits to working from home – most notably the absence of a daily commute – experts warn the lack of physical human interaction is having a detrimental impact on innovation.
However, it appears more people are returning back into the office in Asian markets where COVID-19 has been kept in check. A CEO at a leading fund manager said that employee footfall at his company's Singapore and Hong Kong offices was starting to return to pre-pandemic levels. "Prior to these offices reopening, people came in perhaps once a month. Since then, staff want to spend more time in the office so they are coming in two to four days a week. People are starting to remember the benefits of being in an office, including the sociable side of work life," said a CEO at a leading fund manager.
The human element is key
Empathy will be crucial if organisations are to maintain staff morale, especially in countries such as India and the UK where the pandemic has taken a particularly tough toll. Similarly, financial institutions are taking an increasingly proactive stance towards protecting employee mental health and wellbeing. For instance, a large number of firms have provided staff with access to online yoga and exercise courses among other benefits. Several panellists also observed that the pandemic had injected a much needed dosage of humanity into business. One speaker highlighted it would have been inconceivable during the early 2000s for employees to have insights into the home lives of their CEOs, but the emergence of video conferencing is now making this possible. "A lot of barriers have been broken in a positive way by COVID-19," she continued.
Where next?
The pandemic is still far from over, but organisations are looking towards the future. Many accept that ESG and digitalisation will be core to their business strategies. On a more human level, many financial institutions recognise that empathy with staff will be a crucial ingredient to their success moving forward.
BNP Paribas Securities Services