The global coronavirus outbreak and subsequent drop in interest rates have made maintaining a stable Solvency II ratio difficult for European insurers. While Solvency II regulation has improved asset-liability matching and risk management within the insurance sector, the underlying calculation methodology currently employed exacerbates insurers' sensitivity to interest rates changes. Our expert Marie-Laure Richard examines this disconnect in the context of the upcoming Solvency II regulatory review.
Insurers and the Solvency II compliance challenge
For many insurers, Solvency II has made the challenges of the current low and negative interest rate environment harder still.
The progressive two decade decline in interest rates has made it increasingly tough for insurers (in particular life insurers) to offer policyholders a hard guarantee on the performance of their savings or pension plans. With interest rates turning negative, providing even a zero percent guarantee on the amount invested is almost impossible. Solvency II makes adapting to this environment both more challenging and more crucial.
Solvency II has clearly improved the sector's asset-liability matching and risk management techniques. Overall that is positive for policyholders (lower insurance default risk) and the sector (reduced systemic risk). Yet the market risk-based calculation methodology employed exacerbates insurers' sensitivity to interest rates since it does not fully reflect their balance sheet positions, and makes hedging complex and costly.
The Solvency II review now taking place gives the European Commission and European Insurance and Occupational Pensions Authority (EIOPA) an opportunity to amend the regulation to truly facilitate insurers' role as pension providers. Solving the interest rate sensitivity problem will be one of the review's most complex yet essential tasks.
The global coronavirus outbreak has heightened the importance of that task. The COVID-19 crisis has triggered a further drop in rates in Europe, driven US and UK levels to historic lows, and killed any hope of a rates recovery for the foreseeable future.
Trend in yields (YTD)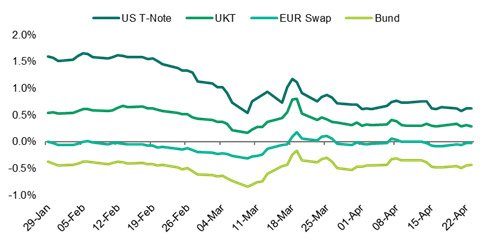 Source: Capital IQ, 24 April 2020
European insurers were better prepared for this drop than their US peers, as they had felt the pain of a sudden interest rate drop in the summer of 2019, and many have implemented hedges. Yet protecting solvency in an ultra-low environment remains a complex exercise, and each new drop is a painful reminder for the industry.
Balance sheet volatility under Solvency II
The value of the own funds under Solvency II is a net asset value i.e. the difference between the value of insurers' assets and debts. But:
Assets are fully marked-to-market.
Liabilities are marked-to-market using a regulatory curve based on risk-free rates.
Solvency II Balance Sheet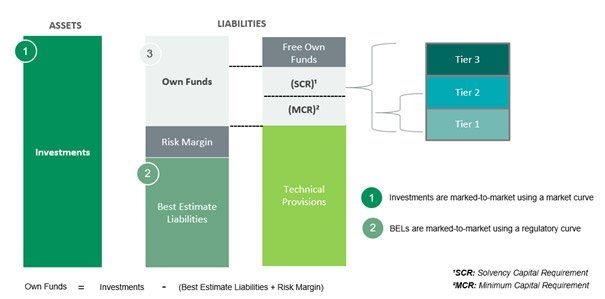 Aside from the incongruity of using a risk-free curve for liabilities and a risky curve for assets, fully marking-to-market the balance sheet implies any mismatch in duration between assets and liabilities will generate volatility in the Solvency II balance sheet and own funds, increasing insurers' sensitivity to yield changes. The need for duration matching – especially by life insurers with long-dated liabilities – explains the high demand for long-dated assets and corresponding flattening of the interest rate curve. Even hedging on a "delta basis" (for a parallel move of the curve) is insufficient, as insurers will retain some interest rate exposure given rates rarely move in parallel.
In addition, any hedging needs to be managed dynamically over time. Traditional life insurance contracts embed an option for policyholders to surrender their contract early, which they will only do if rates rise above the contract's guarantee level. Likewise, when rates fall, policyholders become less likely to exercise their option, and liability duration goes up. In countries such as Germany and the Netherlands where guarantees are high, the option has little value. Where the level of guarantee is lower, as in France and Italy, the option can be worth a considerable amount and will require insurers to regularly recalibrate their interest rate matching.
Sensitivity of Solvency II ratios to interest rate movements
Interest rate levels also have a major impact on insurers' solvency capital requirement (SCR), which determines the total amount of capital each insurer and reinsurer must set aside in order to run their business.
The SCR includes an interest rate charge. For insurers using the "standard formula," this charge is very low and underestimates the shock caused by a fall in interest rates (the lower the rates, the lower the shock, while the 0% floor means when interest rates are negative the downward shock is calculated as zero). Insurers using their own model already incorporate a charge and many have removed the 0% floor.
At the time of its 2018 review of the standard formula, EIOPA pushed for an increase in the charge (removal of the floor and increase in the shocks), but the European Commission excluded it given the impact on insurers' solvency ratios. The 2020 review currently underway gives EIOPA another opportunity to amend the charge, provided it can find counter-balancing measures.
Aside from the dedicated interest risk charge, the SCR is highly sensitive to interest rate changes. As rates fall, future cash outflow calculations are discounted using lower rates, increasing the outflows further. This interest rate sensitivity makes hedging complex and expensive.
Sensitivity of insurance companies' SII ratios to interest rate changes
Impact on Solvency II ratios after a 50bps drop in interest rates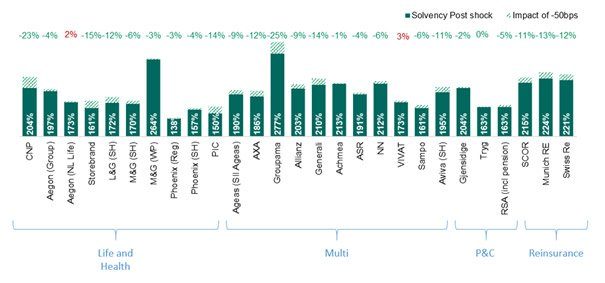 Source: company presentations (based on SII ratios as at 31 December 2019)
Although not required by the regulator, all European insurers publish the sensitivity of their Solvency II ratio to market volatility. If we focus on the sensitivity to the interest rate shock only, we can see that the impact on the ratio varies significantly from one insurer to another. Even after applying the shock, all the ratios in the barchart above remain above 160%
The hedging dilemma
Solvency II has helped make insurers' sensitivity to market moves more transparent, encouraging them to take countervailing steps. However, the regulation also tends to "overshoot" and over-complicate the issue of interest rate sensitivity.
The basic assumption underpinning Solvency II is that a future duration gap must be hedged at some point, so it is good practice to set capital aside to anticipate reinvestment needs.
Furthermore, in countries where insurers have become integral to the provision of pension solutions, regulators and the public believe insurers have a duty to guarantee policyholders they will have a decent pension when they retire. Good risk management stipulates insurers should only provide that guarantee if they are 100% certain they can deliver on it, inciting them to match future cash outflows with long-dated assets.
Yet Solvency II is such a complex model that:
some parts of the interest rate exposure are "non-economical," meaning insurers with comfortable capital buffers are not incentivised to hedge them, and
hedging is complicated and costly.
For example, the risk margin is an additional technical provision set aside over the residual life of existing contracts to cover life insurance risks. It is taken as the sum of the SCRs calculated at different points in time until the last contract matures then discounted to today, which makes the reserve extremely sensitive to interest rate movements. As it is a purely regulatory provision, many insurers opt not to hedge it.
The Ultimate Forward Rate (UFR) creates a similar regulatory-induced interest rate sensitivity mismatch. Under Solvency II, the "best estimate liabilities" equal the projected cash inflows/outflows related to existing insurance contracts, with the flows discounted using an EIOPA-provided regulatory curve. The curve is built using (i) market parameters up to the 20Y point (for EUR) and (ii) a simple interpolation between the last market point (20Y) and a last point set at 60Y, which is fixed and has been calculated using historical long-term rates. So as markets move, so does the "liquid"part of the curve (up to 20Y), while the long end (20 to 60Y) moves much less. For insurers with exposures beyond 20Y, duration matching using market instruments such as swaps becomes problematic, since changes in the value of the liabilities are disconnected from market movements and the hedging instruments.
Regulatory curve[1] vs. the Eurozone market curve[2]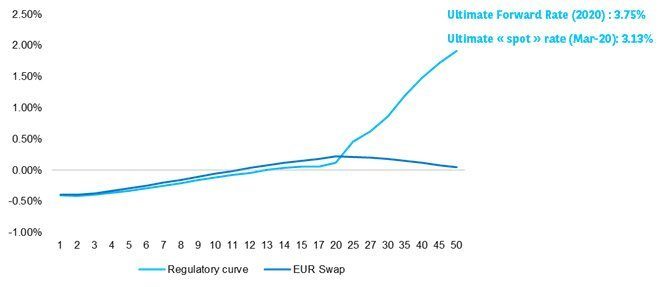 Source: CapitalIQ, 24 April 2020 and EIOPA risk-free rate disclosure, 31 March 2020
Opportunity for revision
Maintaining a stable Solvency II ratio over time is difficult for insurers, as both the numerator (own funds) and denominator (SCR) of the ratio are extremely sensitive to market parameters, in particular interest rate levels. In the current ultra-low rate era, the sensitivity of the ratio has become impossible to manage for some insurers – which has led the French regulator, for example, to allow insurers to include their policyholder profit sharing reserve in the own funds (rather than the best estimate liabilities).
Whether the recent interest rate falls spurred by the coronavirus crisis will incite EIOPA to revisit its position[3] on reviewing the SCR interest rate module remains to be seen. Either way, as part of the 2020 Solvency II review (deferred to 2021 in view of the current context), the regulator will be engaging with key stakeholders to fine-tune the regime to ensure it remains capable of accurately reflecting evolving market conditions. Clearly finding the right balance between providing a ratio that accurately reflects the level of risk taken by insurers, while recognising a large portion of their liabilities are long dated and "sticky," and therefore should not move in line with markets – as happens at present, will be a core pillar of that review process.
Failure to achieve this balance will severely impede insurers' ability to help resolve Europe's pension deficit, as regulators are calling them to do.
What we offer
At BNP Paribas Securities Services, we have built a spectrum of risk and performance analysis and reporting solutions for our insurance clients, ranging from:
A Solvency II look-through service providing Solvency Capital Requirement (SCR) measurement, monitoring and reporting, calibrated to minimise capital reserve requirements.
A portfolio consolidation tool providing a fully consolidated and transparent view of the financial health of the entire scope of investments.
BNP Paribas Securities Services is a multi-asset custodian and securities services provider, with local expertise in 35 markets around the world and a global reach covering 90+ markets. This extensive network enables us to provide our institutional investor clients with the connectivity and local knowledge they need to navigate change in a fast-moving world.As of 31 December 2019, BNP Paribas Securities Services had USD 11,825 billion in assets under custody, USD 2,817 billion in assets under administration and 10,484 funds administered. The bank offers comprehensive, multi-asset solutions, spanning middle and back office services, and now serves 10 of Europe's largest insurance groups.
1 published by EIOPA
2 based on German bunds
3 deferred to December 2020 instead of June 2020