Covid-19 has intensified the asset manager Chief Operating Officer's focus on large-scale transformation, a trend forecasted in our 'Future COO' research. In this article we explore the asset manager COO's vision of their future role and priorities, and how they can make this a reality.
Change has come thick and fast in the asset management industry in recent years, driven by developments in investment strategies, technology and regulation. But now, Covid-19 and the ensuing market volatility has propelled the industry's change agenda, with Chief Operating Officers (COOs) at the centre of this trajectory.
Our report 'The Future COO' found that 59% of asset manager COOs see "delivering change and transformation" as a key priority in future, higher than any of the nine other financial services sectors surveyed. What is the asset manager COO's vision of the future, and has Covid-19 brought this future closer?
COOs want to drive changes in response to competition, client needs and regulation
Not only do asset manager COOs see 'delivering change and transformation' as a key priority, they expect to spend even more time on it in the future. The majority of COOs (59%) told us this will become one of their most time-consuming responsibilities in the future, compared to only 43% who spent most time on this in 2019.
Our survey revealed that the most common challenge for COOs was 'increased market competition'. 63% of respondents cited this as one of their major challenges, followed by 'changing client needs', at 51%, followed by 'regulation', at 47%. While 'budget' presented the biggest challenge for most financial services COOs, interestingly, this was not one of the top three issues listed by asset managers.
This paints an interesting picture of COOs' vision of the future. Asset manager COOs' challenges are externally-driven, and in order to adapt, they must have an acute awareness of the industry environment. Indeed, 'market knowledge' was listed as the most important skill they would require in the future (listed by 67% of respondents). COOs see themselves as a key translator of external forces into business requirements and planning. The traditional notion of the COO as the back-room executive, focussed primarily on day-to-day administrative and operational functions, no longer exists.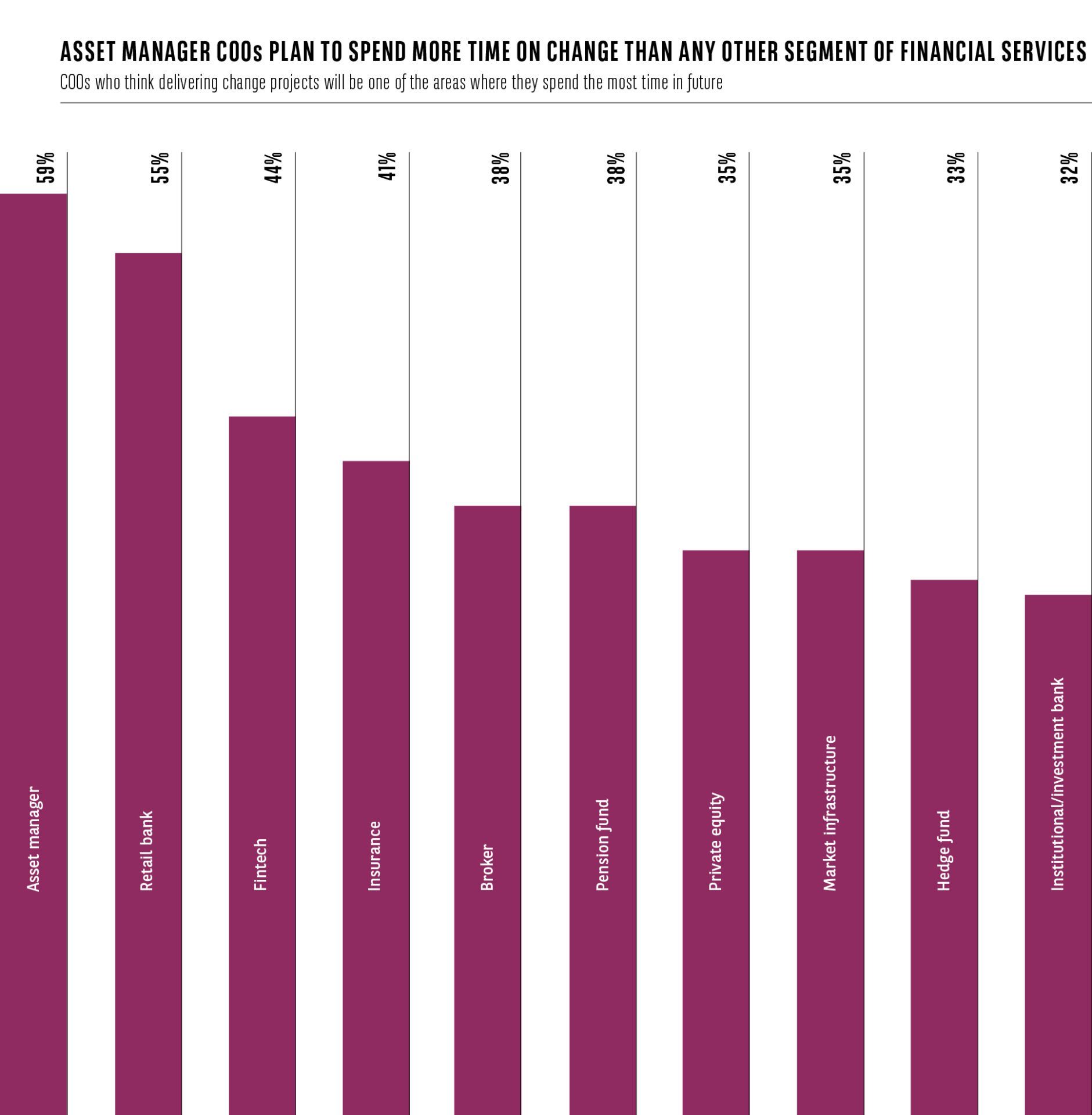 The future COO – no longer a COO?
The asset manager COO is hungry for change to their internal reputation. We found that 69% of asset manager COOs believe they need a new job title, while this was the case for only a minority in other segments, such as banking.
This is perhaps unsurprising given the breadth of the asset manager COOs' remit; over a quarter of asset manager COOs we spoke to had IT, technology, finance, accounting, or data teams report to them. 24% of respondents preferred the moniker Chief Change Officer, with another 24% opting for Chief Strategy Officer; both titles with a more explicit commercial and external orientation.
If the role of COO is becoming more externally focussed, how do COOs themselves need to change? Jeroen Buwalda, COO of Eastspring Investments comments on the changing background of the COO: "I think COOs will need to be adaptive, so someone like myself with a transformation background could be successful in these roles." He adds: "It's a little hard to predict how the role of COO will evolve. Future COOs might come from sources we're not thinking about."
Disruptive change propelled by Covid-19
The preference among many COOs for big-picture titles underlines the fact that many of these challenges require a step change. In an industry where legacy technology is still widely used, and there is frequently a lack of common systems and data across the value chain, many COOs are leading sweeping technological changes to improve efficiencies and disrupt traditional processes. A recent study by Accenture found that 70% of investment operations leaders expect AI to deliver the next wave of cost reductions to the industry. Perhaps it is unsurprising, then, the two-thirds of asset manager COOs are seeking closer collaboration with IT and technology departments.
While digital transformation has been an important topic for some time, the COVID-19 pandemic has propelled this agenda. UCITs funds experienced more than EUR 300 billion of outflows in March 2020, when lockdowns were implemented in many Western European countries. These outflows increased the already significant cost pressure on COOs, creating an urgent need to reassess their operating models and accelerate programmes that improve efficiencies.
It's not just operating models that have needed review. Prior to the pandemic, COOs told us that 'upskilling the workforce' was a top priority for driving change and transformation. Covid-19 has brought a renewed focus on operational resiliency and agile working, and employees have needed to upskill quickly and adapt to new ways of working, both culturally and digitally.
The changing nature of partnerships
While the COO may be looking first and foremost to their workforce to deliver change, this may not always be the most practical or cost-effective solution. This is where service providers can help to relieve COOs of the most time-consuming, complex activities. In our survey, two areas asset manager COOs saw as least value-adding were "overseeing regulatory and control frameworks" and "realising cost savings". Through services such as reporting, providing insights on upcoming regulations, as well as economies of scale across global operating centres, asset servicers can undertake many of these activities on behalf of the manager.
Inevitably, this shift in responsibilities is changing the role of the COO. "As we outsource more of our value chain to third parties, our role is more and more to monitor and supervise", says Jeroen Buwalda. The COO is also becoming increasingly influential in selecting, and building relationships with providers who can deliver their programmes. "As the industry is migrating and we move more towards solutions, rather than product providers, it is more of a co-creation and partnership approach. We always look to work with partners that can complement our expertise", says Kimberley LaPointe, Head of PGIM Investments International.
Although many funds have recovered since the outflows seen in March, the nature of this partnership has been changed dramatically by Covid-19. One area of huge growth is the use of outsourced dealing desks, as asset managers have seen how well outsourcing partners have coped with spikes in volumes during recent market volatility, and the benefits of switching to a more flexible cost base. "Clients and prospective clients are taking a long, hard look at what is essential to retain in-house, what makes sense to outsource, and whether they add value", says Emma Crabtree, Head of Sales EMEA, BNP Paribas Securities Services. "They're asking: what can I do differently? Where can I partner with someone to reduce my costs? Where can I co-create with a partner to meet the needs of the future?"
The future COO: are they here already?
The COOs of asset management firms have been compelled to react to huge changes brought about regulators, market competition, and more recently by the pandemic. But our survey shows that COOs are not just content to react to day-to-day crises. They want to help shape strategy and effect long-term change, both through new technology as well as by collaborating more closely with partners across the market.
The COO is ready for change; now, the rest of the industry must follow.