Teleworking offers a way to balance personal and working lives, yet there is no substitute for all that the traditional office environment provides. We talk to Marianne Le Gagneur, PhD student in Sociology who is conducting her research at BNP Paribas, about the importance of maintaining conventional connections.
The gradual shift to home working   has been taking place for some time. Responsible employers want to offer employees a flexible working environment that allows them to better balance their home and work lives.
Although still far from the norm – just one in 10 citizens in the European Union reported working from home pre-pandemic – teleworking is becoming an accepted practice and is set to increase in popularity. It's take up naturally depends on the activity done by the organisation and the role itself: it is difficult for primary and secondary sectors e.g. raw materials and industry – and not applicable for some jobs such as hospitality or maintenance.
Yet within this gradual migration to teleworking, it is important to keep sight of the critical part the traditional office setting plays in creating and sustaining an innovative, productive and happy workforce.
Commuting to work – creates habits and marks the boundaries
Marianne Le Gagneur explains how many of us – perhaps unknowingly – perform rituals as we prepare for work. Everything from putting on professional work attire to reading the business news on the commute; each action informs the brain of what is expected.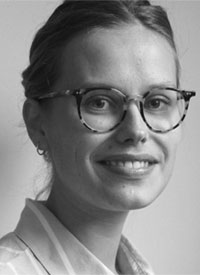 Rituals provide a transition between your work-self and your home-self. Sometimes there is no transition between work and home, which means people end up working long days or they are distracted by domestic activities.  It is important to create some distinctions between home and office.

Marianne Le Gagneur, PhD student in Sociology, École des Hautes Etudes en Sciences Sociales (EHESS, Paris)
The lack of physical presence in an office – and the distance from colleagues – can also impact on an individual's affinity with their organisation. Marianne says company culture is reinforced at work and if employees are away for extended periods their corporate identity may weaken.
"You don't belong to the collective in the same way if you are physically away from it. If you work from home just two days a week there will be a low impact on your corporate identity, but if you are away a lot then the employer will need to reinforce the identity through other ways ," she says.
Being in the office to develop social life
The importance of keeping employees in physical contact cannot be underestimated. First it reinforces corporate identity as noted, but it also ensures critical, creative opportunities are not wasted.
Marianne says that while the formal meetings are important, it is often the informal conversation between co-workers before or afterwards that fosters real innovation and progress.
"Sometimes, it is on the way to or from the meeting that discussions occur which bring new perspectives to the subject," she says. 
She adds that it is also in those informal moments that employees build stronger relationships with their colleagues leading to a healthier and more productive workplace.
Marianne says: "The first feeling of belonging for me at BNP Paribas came after my first coffees with the team and my first lunch. These are important shared, human experiences."
The key for companies relying on remote workers is to hold regular get-togethers . Marianne points to the success of offsites where the teams meet for one or two days , to encourage creativity and reconnection .
"These types of meetings can be a real motivator for employees and reinforce a sense of belonging," Marianne says.
Staying connected
The digital revolution has been critical in allowing people to work from home. Almost every aspect of the traditional office can be created at home, but only if individuals and organisations have access to the technology, or they work in industries that are suited to teleworking
Marianne says: "Well-resourced companies like BNP Paribas are able to accommodate home working but employees need the right equipment and spaces in which to work."
She adds: "Interdepartmental interaction can be more challenging. Teams can schedule remote meetings, but it is not the same as being in the same office where they can simply share a coffee."
Finding a new balance between office and home working
As teleworking increases, it is clear certain tasks may be suited to the assumed quiet of a home setting. Marianne says employees often complain of being interrupted in the office and it is easier to get particular jobs done at home. Online training, administration and out of hours calls, for example, are ripe for teleworking.
Marianne notes, however, that there is no substitute to the traditional office for developing softer skills.
She says: "You can develop skills from many sources, we also know that working one's way up and changing role or getting a promotion is about contact with a manager and a team, and that is a bit more difficult when you are remote."
Remote working is also unsuited to orienting new recruits. Returning to the importance of cultural identity and belonging that is fostered in the office, new employees may find it harder to settle if they spend too much of their time at home. Managers might need to adapt their style to better balance the mix of home and traditional office working.
Remote working can complement traditional office working thanks to digital advances and new ways of communicating. However, a truly flexible employer will not only assess the new ways of home working but will also have to go further by redefining what make office working unique. 
Introducing Marianne Le Gagneur
Marianne is a PhD student in Sociology at the École des Hautes Etudes en Sciences Sociales (EHESS, Paris).
As part of the CIFRE programme which places doctoral students in companies where they can conduct research to support their theses, Marianne has joined  BNP Paribas for three years. 
During this time, she is conducting research into her paper, 'Working in the digital age: social and gender experiences of temporalities in the personal and professional spheres'.