Hedge funds are facing unprecedented levels of operational complexity.
Mounting regulatory requirements, expanding data sets, and an increasingly demanding investor base seeking transparency, real-time reporting and a consistent user experience, is placing enormous pressure on a fund manager's in-house infrastructure.
We offer hedge funds a one-stop shop asset servicing and financing solution, allowing them to scale and operate more efficiently. By streamlining our clients' vendor network, reducing operational burden and fixed cost base, and providing access to best-of-breed outsourcing solutions, we help hedge funds focus on their core business: generating alpha[1].
Our Hedge Fund Solutions
We help clients achieve the most optimal outsourcing solution, bringing hedge fund administration services and financing solutions together under the one roof. This ensures we are uniquely positioned to meet the ever evolving needs of hedge funds and grow alongside them to create a truly sustainable partnership.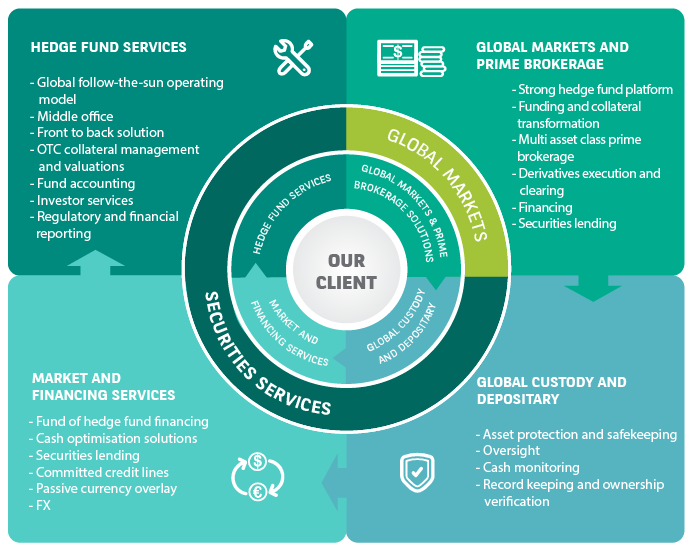 Servicing the full spectrum of hedge fund strategies
Our hedge fund solutions cover the full range of investment strategies – spanning the liquidity spectrum and all levels of complexity.

Differentiated by service
Clients are at the heart of everything we do. Our goal is to not only offer the right mix of hedge fund solutions, but to deliver these in a way that make our clients' lives easier. Our multi-award winning client service means you get the support you need, when you need it, so you can focus on your core objectives.
What sets us apart

Multi-local coverage
Ability to service clients from any jurisdiction – including the United Kingdom, United States, Hong Kong, Singapore, Switzerland, and Ireland – from 11 operating locations globally.

One-stop shop
The BNP Paribas integrated bank model allows us to offer clients a complete hedge fund outsourcing solution – from core fund administration, through to depositary, custody, cash, FX, financing and prime brokerage solutions.

Breadth of service
One of only a few providers globally capable of offering the full suite of front-to-back fund services – across all investment strategies and asset classes – to alternative, traditional, and asset owner clients.

Banking on digital
Investing in digital transformation, innovation and new technologies to enhance core services and help clients improve their hedge fund operations while reducing cost and risk.
Expertise
Global team comprising some of the brightest minds in the asset servicing industry who regularly publish insights on market developments and challenges facing hedge fund managers.

Client centric services
Dedicated teams delivering customised end-to-end services for hedge funds, with a single operational contact for the client and around the clock trade processing capabilities.
[1] Measures the excess risk-adjusted return of investments relative to a market index or benchmark.