Planning your Route : Guide to investment vehicles
Discover our local fund expertise and dedicated suite of services
Your trustee and depositary partner
Regulatory change – and principally the desire to ensure the fund industry continues to provide products in which investors have confidence – has focused attention on the Trustee and Depositary function. It is essential that asset managers choose a partner who will bring both added-value to their business and certainty that fundamental tasks, including asset and investor protection, are undertaken effectively and efficiently.
A global bank at the heart of funds servicing
With over 30 years of experience we are a leading provider of Trustee and Depositary services. We safeguard $2.4 trillion in assets of over 7,900 funds in 17 domiciles¹, making BNP Paribas one of the world's largest provider of Trustee and Depositary services in terms of:
Funds monitored
Assets protected
Range of fund domiciles serviced
Variety of fund types and investment strategies supported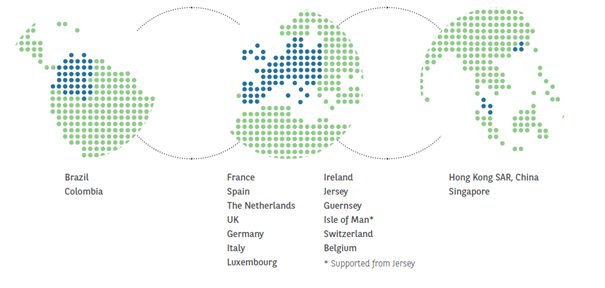 Building on the fundamentals of experience and expertise we also look to new technologies to ensure that we remain a market leader and continue to deliver a service that is comprehensive, efficient and cost effective to our clients.
We consider that building long-term relationships and forming true partnerships with clients are critical to our mutual success. We will work with you to understand the nature, scale and complexity of your business and build a partnership that will not only safeguard your assets and support you in meeting regulatory obligations, but will also contribute to your continued growth.
Transcript
Growing your funds with the protection of a market leading Depositary
Your challenges
Ensure asset and investor protection
Maintain investors' confidence
Keep pace with regulatory changes across multiple jurisdictions
Rely on a forward-looking partner
By working with us, you will benefit from
Support across a wide variety of fund types and investment strategies
The backing of a strong and responsible G-SIB bank
A harmonised global operating model
Local regulatory insights by our dedicated depositary experts
The next generation platform to enhance client workflow, reporting and data
Key figures
EUR 2.3 trillion in assets
9,000+ funds
Across 17 domiciles in Europe, Asia and South America
[1] BNP Paribas Securities Services internal figures, end of March 2022
Contact us + logo BNP Paribas