The European Commission is promoting a brand new action plan on sustainable finance as part of a strategy to integrate environmental, social, and governance considerations into its financial policy framework and mobilise finance to support sustainable growth.
The EU action plan on sustainable finance (Sustainable Finance Action Plan), adopted by the Commission in March 2018, stems from the EU's commitment to channel private financial flows towards investments that support the Paris Agreement target of a neutral-carbon economy by 2050, and more broadly the United Nations Sustainable Development Goals. The Action Plan is part of the Commission roadmap, also known as "the European green deal," aimed at mitigating climate change, reducing pollution, and protecting biodiversity.
In December 2019, a political agreement was reached on the main regulatory part of the plan, namely the EU regulation for the establishment of a framework to facilitate sustainable investment. The regulation (also called the EU Taxonomy Regulation) defines six EU environmental objectives, starting with climate change mitigation and adaptation. The regulation provides a classification of economic activities based on contributions to environmental objectives. By complying with screening criteria, an economic activity can be considered as contributing significantly to an objective without significantly harming any of the other five objectives. On 9 March 2020, the Technical Expert Group mandated by the Commission published its final recommendation on technical screening for climate change adaptation and mitigation, which will be used to draft implementing texts to supplement the taxonomy regulation.
Regulatory initiatives affecting insurance companies, asset managers, pension funds and portfolio managers
Asset owners, asset managers, financial advisers of products such as investment funds, insurance-based products, and pension funds offered in the EU but also EU portfolio managers, will be affected by the following regulatory initiatives proposed in the context of the Action Plan.
Proposals to amend delegated acts of sector legislation (the UCITS Directive, the AIFM Directive, the MiFID II Directive, the Solvency II Directive and the Insurance Distribution Directive (IDD)) and the adopted sustainability-related disclosure regulation introduce the requirement to consider and be transparent about:
How sustainability risks are integrated in risk management policies and, for each financial product, pre-contractual documentation stating whether and how sustainability risks are integrated in investment decisions and their likely expected impact on the returns of the financial product. This will apply from 10 March 2021;
How main adverse impacts on environmental and social matters are considered by financial market participants subject to the Non-financial information Reporting Directive[1] (NFRD) from 30 June 2021 and in the periodic reports of financial products they manage from 30 December 2022;
Furthermore, financial products with environmental characteristics or objectives will have to disclose their alignment with the EU taxonomy and how their environmental or social characteristics or objectives are met in periodic documents from 31 December 2021.
Regulatory initiatives affecting companies
Currently the NFRD requires in-scope companies to report information on their main sustainability risks and main adverse impacts resulting from their activities on environmental and social issues. However, the information to be disclosed is not specified in the implementing text and does not allow investors to check that equities or corporate bonds are EU taxonomy eligible. Therefore, in order to ensure the consistency of the legislative framework, the EU taxonomy regulation also requires those companies to include in their non-financial statement: (i) the proportion of their total turnover derived from EU taxonomy-eligible economic activities, (ii) the proportion of their total investments and expenditures relating to taxonomy-eligible economic activities. This will apply for activities that are taxonomy eligible for climate change adaptation and mitigation from 31 December 2021 and for pollution prevention, circular economy, protection of water and marine resources and healthy ecosystem from 31 December 2022. Furthermore, the Commission has launched a consultation on the review of NFRD (opened from March to May 2020) to seek stakeholders' views on which companies should be in scope and the comparability, reliability, granularity, standardisation, and digitisation of the information. The Commission could publish a proposal by the end of 2020.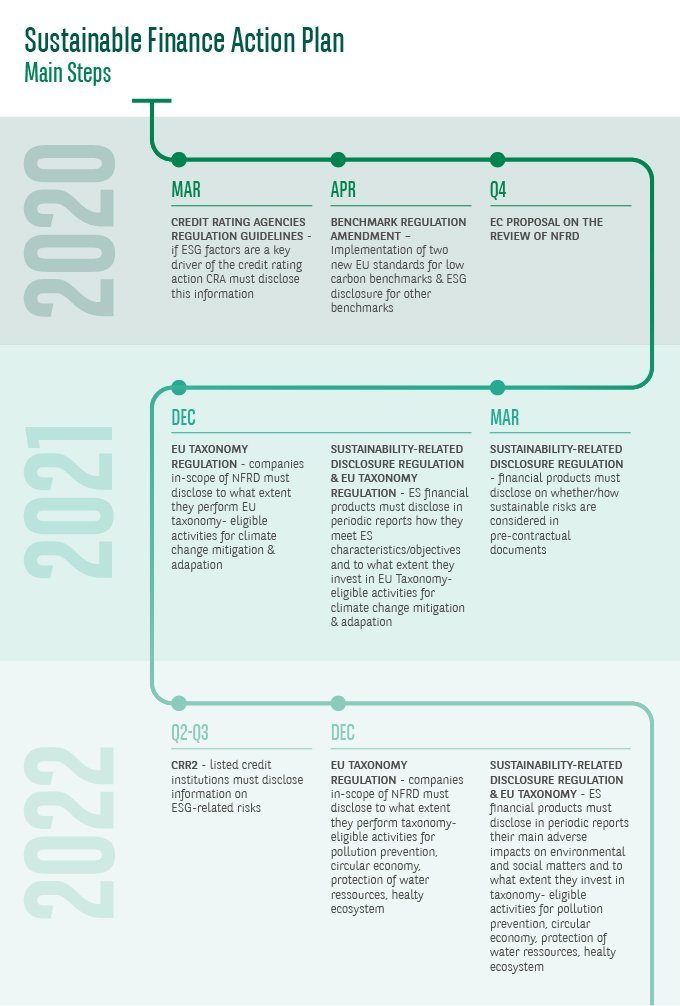 Conclusion
As investors become increasingly environmentally conscious, the aforementioned requirements are expected to encourage demand for sustainable financial products. Although those products may invest in activities that are non-eligible to the taxonomy while meeting environmental characteristics or objectives, financial market participants will have to be clear on the reason why it is the case.
While more data will be needed from ESG data providers – as yet a group who are not regulated – unreliable information could be a source of litigation for market participants. The proposal of a revised NFRD in Q4 2020 could solve for the availability, reliability, standardisation, and cost of ESG data for companies in scope.
(1) In 2014 the EU agreed Directive 2014/95/EU (the Non-Financial Reporting Directive or NFRD), an amendment to Directive 2013/34/EU (the Accounting Directive). The NFRD requires certain companies to report information regarding environmental, social and employee issues, human rights, and bribery and corruption, on an annual basis. The NFRD applies to large listed companies, banks and insurance companies with more than 500 employees. Companies under the scope of the NFRD had to meet these reporting requirements for the first time in 2018, for information covering financial year 2017.